Fęrsluflokkur: Stjórnmįl og samfélag
Kęra Sigurveig (langt sķšan viš höfum sést, mikiš vatn til sjįvar runniš hjį okkur bįšum sķšan) Ég verš bara aš segja žaš aš vitiš flękist ekki fyrir žessum Brynjari/sorry kanski er hann jś bara talsmašur reglugeršarbįknsins en flestir vilja jś vera įhrifavaldar ķ starfi sķnu-ekki sķst ķ svona bįknum.
http://www.mbl.is/frettir/sjonvarp/162929/
Fyrsta kettlinga holliš sem fęddist hjį mér..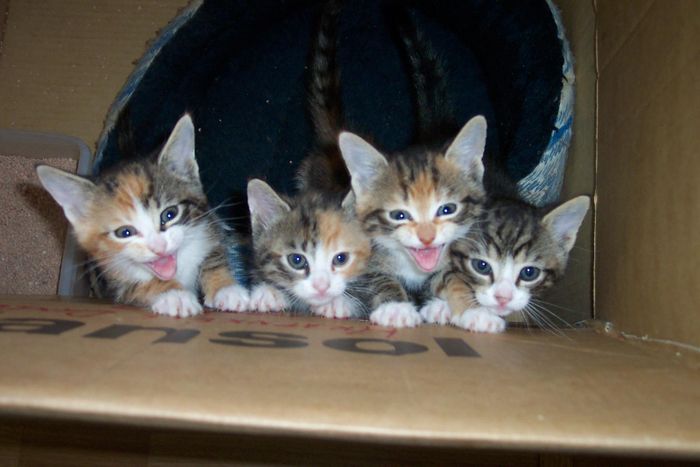 En sko..heldur hann aš fólk sem er į annaš borš hrętt viš hunda sé ekki hrętt viš "blindra" hunda? Ah..kanski oršiš "blindra" žżši aš hund greyiš sé blint og žess vegna sauš meinlaust
.. smį kaldhęšni..get ekki stillt mig..Heimskan rķšur ekki viš einteyming ķ reglugeršar frumskóginum, žaš er sko stašreynd .. !
En er ekki venjulega aš žaš er meirihluta vilji sem ręšur ķ flestum mįlum? 
Žaš held ég aš hljóti aš standa i reglugeršar kladda žessa félags ef žeir lęsu allan kladdann..
En ekki gleyma žvķ, aš alltaf mį endurmeta og endurskoša reglugeršir og breyta žeim..
Žaš ętti ekki aš vera vandamįliš..Ekki sķst ef aš meirihluti ķbśa er mešmęltur dżrahaldi..
HVERNIG VĘRI AŠ ÖRYRKJABANDALAGIŠ BYGGŠI BLOKK ŽAR SEM HUNDA OG KATTA HALD VĘRI LEYFT?
ŽAR FENGJU BARA INNI ŽEIR SEM VĘRU MEŠ DŻR..HVAŠ HALDIŠ ŽIŠ AŠ YRŠI LANGUR BIŠLIST EFTIR ŽEIM ĶBŚŠUM?"
HELD AŠ ŽEIR SEM VĘRU MEŠ OFNĘMI MYNDU ENDA FREKAR EINIR..ŽVĶ MIŠUR.
Hvaš ętli séu t.d margir einstaklingar meš ofnęmi ķ x stigagangi žar sem Sigurveig bżr? 
Segjum žaš sé einn- į žį hann sem sé aš hafa meira vald en allir hinir ķbśarnir sem myndu/hafa skrifa/aš undir aš leyfa dżrahald ķ tilteknum stigagangi?
Afhverju flytur ekki sį einstaklingur sem er sagšur meš ofnęmi?
Žar sem į flestum stöšum er jś bannaš (žvķ mišur), aš vera meš dżr- žį ętti ekki aš vera erfitt fyrir žį sem žola ekki dżr heilsu sinnar vegna(nś eša bara hata dżr) aš finna ibśš žar sem engin eru...

Afhverju žaf fólk ekki aš sżna vottorš frį lękni um aš žaš sé meš ofnęmi fyrir köttum/hundum?
ÉG MYNDI ALLAVEGA HEIMTA AŠ ŽEIR SEM SEGJAST VERA MEŠ OFNĘMI FYRIR KÖTTUM/HUNDUM  SŻNDU LĘKNISVOTTORŠ FYRIR ŽVĶ ! ŽAŠ į ekkert frekar aš taka orš žeirra bara góš og gild..!
Ég veit um staš žar sem er sagt aš ein manneskja sé meš kattaofnęmi og viškomandi myndi finna žaš undireins ef vęri köttur ķ stigaganginum žvķ viškomandi sé meš svo mikiš ofnęmi....Veit reyndar aš žaš er köttur ķ sama stigagangi en algjör inni köttur.

Žaš er hęgt aš ljśga żmsu ..
Fólk sem žolir ekki dżr/hatar jafnvel, jį žaš er sko til žannig fólk og oft er litiš hornauga į fólk sem hatar dżr - en žeir sömu einstaklingar  fį mešaumkvun ef žeir segjast  hafa ofnęmi fyrir x dżrum!
Žaš mį leika sér aš og meš reglur /reglugeršir aš eigin gešžótta - ekki sķst kanski ef viškomandi vęri hśsvöršur ķ hśsinu..
En ég held sé veriš aš losa sig viš fólk, ekki dżr bara..
Viš sem erum öryrkjar, erum jś óęskilegur hópur ķ žjóšfélaginu- svona eins og óhreinu börnin hennar Evu - žau sem hśn faldi fyrir Guši..
Hśn taldi bara upp žau sem hśn var bśin aš žvo og baša žegar Guš kom "ķ heimsókn" en faldi hin bak viš huršina.. Hśn afneitaši žeim sem sé žegar Guš spurši hvort hśn ętti ekki fleiri- henni hefndist fyrir žaš..
Hann sagši ,,fyrst žś felur börn žķn fyrir mér- žį skulu žau einnig vera hulin augum allra manna į jöršinni og afkomendur žeirra.."..
Žannig er vķst "huldufólk" tilkomiš..

Žetta er ķ raun žaš sem stjórnvöld vilja gera viš okkur sem erum öryrkjar- aš viš séum ósżnileg- žį vęri lķfiš svo mikiš žęgilegra fyrir žį sem halda um stżriš į žjóšarskśtunni!
Žeir žyrftu ekki alltaf aš hafa okkur "žurfalingana" /"afęturnar" fyrir augunum- viš vęrum hulin žeirra sjónum... žeir fį svo illt ķ augun viš sjį okkur
... Kanski svęfu aumingja greyin žį betur į nęturnar..
*************************************************
Ég missti žvķ mišur hśsiš mitt til bankakerfisins..
Kreppu pśkinn nįši mér 
og žaš sem ég hafši rįš į, og reyndar er bara illfęrt almennt aš fį eitthvaš leigt,žó svo hśs og ķbśšir standi aušar mįnušum/įrum saman sem bankinn hefur eignast..
Enda segjast žeir ekki vera leigusalar.. humm..
En žvķ mišur mį ekki hafa dyr žar sem ég fékk ķbśš og varš aš svęfa 4 af 9 köttum sem ég įtti..
.. 
Žaš er gert ķ žvķ aš halda fólki  žunglyndu og einmanna Afhverju segi ég žaš? Žaš selur jś meiri lyf..
Aš eiga dżr og hugsa um hefur ķ rannsóknum sżnt sig aš fękka hjartaföllum,  žaš munaši ótrślega miklu hjį žeim hóp sem fékk aš hafa hund aš hugsa um ķ rannsókninni į móti žeim sem "fóru ekki ķ hundana" ef žannig mį aš orši komast....
(Held ég hafi einhverntķma birt žį grein- getur veriš hér į blogginu eša į spjallborši sem ég var meš en er bśiš aš leggja nišur nśna.. )
En sorry to say..žaš er ekki hagkvęmt fyrir "ó"heilbrigšiskerfiš - sérlega lyfjaframleišendur ef ekki seljast lyf - pęliš ašeins ķ žvķ. Er ekki aš djóka..
Bara žaš eitt aš žurfa aš hugsa um annan einstakling, -dżr eru jś einstaklingar- og aš žessi einstaklingur į allt sitt višurvęri undir žér komiš aš žś hugsir um og annist hann, bara  žaš gefur fólki lķfsfyllingu og tilgang, aš einhver žarfnist žess fyrir sitt višurvęri..
Žaš er ekki sķfellt meš hugann viš sjįlft sig og telja tķmann eins og žvķ mišur margir segjast gera..ja kalla žaš reyndar aš drepa tķmann.. žaš er nś reyndar öfugt- tķminn drepur mann...
VARŠ AŠ BĘTA ŽESSU INN.
Heilunarmįttur kattar malsins.
Nżjar rannsóknir hafa sżnt fram į aš mal kattarins "purriš" žeirra hafi heilunar mįtt og virki ķ reynd sem mešferš-ekki ašeins viš aš endurbyggja lķkamann-heldur lķka hraša bataferli..auka beinžéttni og fleira..

The Healing Power of the Cat Purr
http://mentalfloss.com/article/63725/healing-power-cat-purr
MAL KATTARINS "PURRIŠ" HEFUR HEILUNARMĮTT
How do we know that cats have "healing powers..?"
New studies have provided evidence that the cat's purr actually acts as a therapeutic apparatus , not only regenerating the body, but also fortifying it to resilient magnitudes. The purr has been shown to significantly accelerate the recovery of their bones and organs while also greatly increasing their density in the process.
These conclusions indicate that the averagely accepted belief in which cats only purr while they are content, might very well be a misconception. One other reason this might be, is the fact that observation has shown cats to also purr in other less pleasurable circumstances, like when wounded, frightened, or when giving birth. This suggests that the purr would certainly play an evolutionary role as some kind of a survival mechanism.
Many cats in ancient times commonly received admiration and had also been consequently deified, for their miraculous ability to resist harm and even reduce excessively severe impact. Regular events such as these, likely attributed to the inspiration for the "all cats have nine lives" myth we have so often heard!
https://iheartcats.com/the-healing-power-of-cats/
**************************************************
Ég sakna ekki fólks..žó svo synir mķnir gętu ekki flutt meš mér..žeir fengu inni hjį afa sķnum, žeir 2 af 4  sem bjuggu hjį mér.. og eru ekki langt frį mér.. žeir eru allavega lifandi -ég žurfti žó ekki aš farga žeim 
..bara dżrunum mķnum..En hvenęr ętli žaš verši žannig aš mašur verši aš farga/(lįta af hendi)sķnum afkvęmum..?
Jamm kanski ykkur finnist žetta fyndiš ..en er nś reyndar a meina žetta! .. Žaš sem okkur datt ekki ķ hug ķ gęr aš yrši til ķ dag - er allt ķ einu oršiš..žaš sem er ekki til ķ dag er til į morgun..žannig.. you never know..
En annaš..ég veit aš vķsu um staš ķ bęnum sem mį hafa ketti og hunda..en ętla ekki aš setja žaš hér..kanski ég hefši flutt žangaš ef ég hefši vitaš nógu snemma af žvķ..nei reyndar hefši ég ekki haft efni į žvķ held ég..
Einn af mķnum köttum var svo heppinn aš fį inni žar..Hann var bara eins og sér snišinn fyrir óskina um hvernig kött manneskjan vildi..og honum lķšur vel žar og žaš er žaš sem mįli skiftir...
Frekar svęfši ég mķna ketti en aš lįta ķ hendurnar į bara einhverjum og einhverjum.. Ég veit žó aš žeir eru į góšum staš hjį Guši ..en meš mannfólkiš veit mašur sjaldnast -žvķ mišur..fólk segir žetta og hitt... en oft er ekkert į bak viš oršin..

En ég sakna žeirra allra
enginn žeirra var eins karakter og skemmtilegir félagar og samdi ótrślega vel saman öllum..

Sendi bęn fyrir žvķ aš Sigurveig og žetta fallega dżr haldi lķfi sķnu-og žau fįi aš vera saman....lifandi!
Er hętt aš "yrkja " nśna..en vil gjarnan "styrkja" ašra sem "yrkja"...
Kvešja frį öryrkja = viš sem yrkjum svo ört





Stjórnmįl og samfélag | Breytt 3.2.2019 kl. 15:21 | Slóš | Facebook | Athugasemdir (0)
Heimsóknir
Flettingar
Ķ dag (28.1.): 2
Sl. sólarhring: 5
Sl. viku: 45
Frį upphafi: 305664
Annaš
Innlit ķ dag: 2
Innlit sl. viku: 37
Gestir ķ dag: 2
IP-tölur ķ dag: 2
Uppfęrt į 3 mķn. fresti.
Skżringar
Um bloggiš
Hitt og þetta...aðallega hitt...
Eldri fęrslur
2022
2021
2020
2019
2018
2017
2016
2015
2014
2013
2012
2011
2010
2009
2008
2007
2006
Tenglar
Uppįhalds sķšur
Margvķsleg mįlefni.
Żmsir vefir.
Talnaspeki / Numerology
Fróšleikur um žessa speki
Fyndiš stuff.
Myndir, brandarar og glens.
Andleg mįlefni
Allt sem tengist žeim mįlum.
Stjörnuspeki / Astrology
Fróšleikur um žessa speki.
Sķšur um ADD / ADHD
Upplżsingar um athyglisbrest / ofvirkni.
SSRI lyf og önnur žunglyndislyf
Żmsar sķšur um hugarfars breytandi lyf.
Asperger syndrome og Autism
Sķšur sem fjalla um Asperger og einhverfu
Blogg śr żmsum įttum..
Vinir / įhugaveršir einstaklingar.
AGLOCO
AGLOCO

Borgaš fyrir aš browsa..
http://skorrdal.com/
MICROCHIP - RFID
UMDEILD MĮLEFNI
WIDE EYE CINEMA

WIDE EYE CINEMA is dedicated to showcasing the very best alternative truth-related documentaries & cinema uploaded onto the World-Wide Web.
MY FAVORITE SITES
HAARP
CHEMTRAILS
TRANSLATE-ŽŻŠA
Translate your website into 52 languages

Just copy and paste the Translate This Button anywhere on your site, it's free and easy. There are no files to upload and it works on almost any website. The Translate This Button is a lightweight JavaScript translation widget. It translates any page quickly using Ajax and the brilliant Google Translate.
VERICHIP-WE THE PEOPLE WILL NOT BE CHIPPED!