Table of Contents
- VACCINES & PEANUT PANDEMIC
BÓLUEFNI ERU MEGIN ORSÖK FĘŠUOFNĘMIS!!!!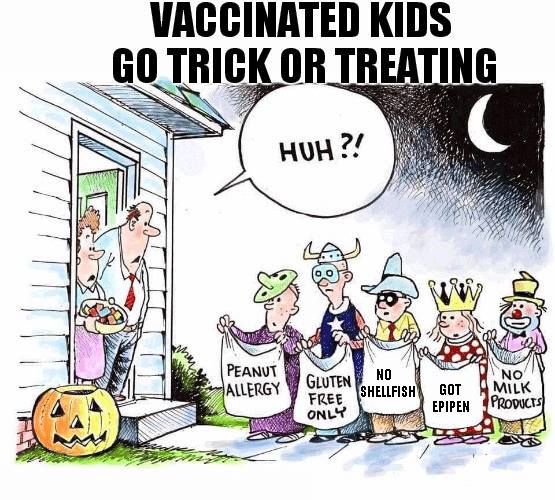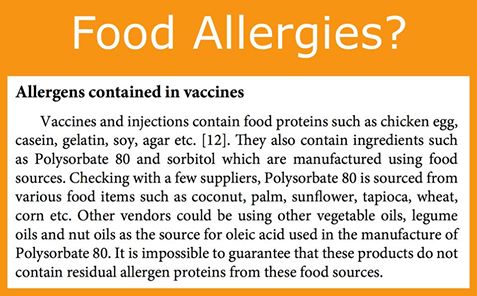 – Dr Tim O'Shea
Hversvegna eru allir aš kaupa EpiPens nśna?
Fyrir aldamótin 1900 var hnetuofnęmi óžekkt. Ķ dag eru um 1.5 miljónir barna meš žaš ķ USA. Fariš var aš nota hnetuolķu sem hjįlparefni fyrir pensillķn til innspżtingar um 1940 og ķ kringum 1960 er fariš aš nota hana sem hjįlparefni ķ bóluefnaframleišslu.
1953 var 12% žjóšarinnar komiš meš pensilķn ofnęmi. En kostir žess į móti lķfshęttulegum bakterķu sżkingum žótti įhęttunnar virši.
1950 var sżklalyfjum deilt śt eins og M&M. Hermenn, börn, allir meš einhverskonar veikindi, ekki bara bakterķu.(Innskot žżšanda-pensillķn virkar ekki į virusa) 
Žrįtt fyrir alvarlegar višvaranir Alexander Flemming"s viš nota sżklalyf sem fyrirbyggjandi, var žeim deilt śt hęgri-vinstri, svona til vonar og vara, sem vęru žau nżtt undralyf.
Žaš er ekki fyrr en ķ kringum 1950 sem hnetuofnęmi fer aš gera vart viš sig, jafnvel žó aš Amerķkanar hefšu boršaš hnetur ķ meira en heila öld. Muniš- aš borša hnetur getur ekki valdiš hnetu ofnęmi, nema žęr hafi nįš aš mygla, en žaš er žį sem aflatoxins myndast, žaš er ķ rauninni ekki hnetu ofnęmi. Žegar fór aš bera į hnetu ofnęmi voru tilfellin žaš fį aš žaš žótti ekki žess virši aš rannsaka žaš.
OFNĘMISLOST OG OFNĘMI
ANAPHYLACTIC SHOCK AND ALLERGY
Fyrir aldamótin 1900, var ofnęmislost nįnast óžekkt. Einkennin voru skyndilegt yfirliš (Innskot Agny.Eins og hefur skeš hjį stślkum žegar žęr eru bólusettar meš HPV bóluefnunum), andnauš, krampar og stundum dauši, var ekki til fyrr en hętt var aš nota skuršhnķf og fariš aš  bólusetja undir hśš.
Žessarri umbreytingu var eiginlega lokiš um aldamótin ķ hinum Vestręna heimi. Einmitt į žesum tķma, byrjaši nżr sjśkdómur sem kallašist Serum Sickness/ blóšvatns sjśkdómur aš hrjį žśsundir barna. Margvķsleg einkenni fylgdu bólusetningunni oft, žar į mešal lost, yfirliš, og stundum daušsföll.
Ķ stašinn fyrir aš  dylja žaš, žį var tengingin žekkt  og skjalfest ķ lęknaskżrslum žess tķma. Dr. Clemens Von Pirquet, sem fann reyndar upp oršiš "ofnęmi", var leišandi ķ rannsóknum į  einkennum žessa nżju sjśkdóma. [5]
Serum Sickness/Blóšsjśkdómurinn  var fyrsta samansafn ofnęmisvalda  sögunnar. Žaš sem hafši žurft til aš koma honum af staš var tilkoma sprautu nįlarinnar.  Žegar skuršhnķfnum var skift śt fyrir nįlina, sķšla 1800, varš žaš algengt aš Serum Sicknesss / blóšsjśkdómurinn  kęmi börnum ķ rśmiš. Žaš var vitaš aš žetta vęri afleišing bólusetninga. Vissulega, hefur ofnęmi nśtķmans žróast frį fyrstu rannsóknum į Serum Sickness afleišingu bóluefna.
BÓLUEFNA OFURNĘMI
VACCINE HYPERSENSITIVITY
Von Pirquet višurkenndi aš bóluefni hefši 2 ašal įhrif: ónęmi og ofurnęmi[5]
Hann sagši aš žetta tvennt vęri óašskiljanlegt: annaš vęri afleišing  hins.  Meš öšrum oršum, ef viš įttum aš hafa įvinning af įhrifum fjöl-ónęmisašgerša, yršum viš aš sętta okkur viš neikvęša žįttinn-fjöl ofurnęmi sem naušsynlegan hjįlparžįtt.
Nśtķma lęknisfręši įkvaš aš žessum tvöfaldu įhrifum  yrši haldiš leyndum, žannig aš žeir leyfa ekki aš neikvęši žįtturinn sé ręddur
Margir lęknar voru ķ byrjun 1900 algjörlega į móti bólusetningum vegna žessa įhrifa. Ekki var sannaš aš auglżstur įvinningur vęri įhęttunnar virši.
Lęknar eins og Walter Hawden MD, Wm. Howard Hay og Alfred Russel Wallace sįu hvernig bólusóttar (smallpox) bóluefniš hafši ķ reynd aukiš bólusóttar  tilfellin. [2,3]  Wallace var einn af leišandi faraldsfręšingum aldarinnar, og kort hans sem sżndu aš aukning daušsfalla af völdum bólusóttar fór saman –eru nįkvęmar heimildir / ómetanlegar grunn heimildir.
Annar tķmamóta rannsakandi snemma 1900 var Dr. Charles Ricket, sį sem kom meš hugtakiš " brįšaofnęmi"  [4]  
Ricket einbeitti sér aš višbrögšum sem aš sumt fólk virtist sżna gagnvart vissum fęšutegundum.
Hann uppgötvaši aš ķ sambandi viš fęšuofnęmi komu višbrögšin fram sem afleišing óskertra (ónišurbrotinna) próteina ķ fęšunni, sem hefšu fariš gegnum meltingarkerfiš og fundiš sér žannig leiš inn ķ blóšiš ķ gegnum  leka žarmana. Framandi protein ķ blóši eru vitanlega kveikjan aš öllum ofnęmis višbrögšum, ekki bara hjį fólki, heldur öllum dżrum. [6]
En Richet tók eftir žvķ aš ķ verstu tilfellunum, žį skeši brįša fęšuofnęmi ekki bara viš aš borša mat. Žį hefši žaš einfaldleg veriš matareitrun.
Fęšuofnęmis lost er allt annars ešlis.
Žessi skyndlegu ofsafengnu višbrögš bera meš sér aš innspżting hafi įt sér staš, ķ kjölfariš er svo fęša sem inniheldur žaš sama og innspżtingin (bólusetningin) innihélt… Fęrš bólusetningu, sķšar er fęšunnar neytt. Upphaflega ašgeršin skapar ofnęmi. Annaš skiftiš er žaš hin įrįsargjörnu, jafnvel banvęnu, lķkamlegu višbrögš.
Fyrstu verk Richet"s ķ kringum 1900 voru ašallega ķ samband viš egg, kjöt, mjólk og barnaveiki (diphtheria) protein. (Innskot žżšanda- Į eftir aš grśska vel og vandlega ķ barnaveiki-bóluefnis -innihaldinu-en ég tengi persónulega žaš sem allir fį ķ dag og kallaš er barkabólga sem afleišingu af barnaveiki bólusetningu-ž.e. žeir bólusettu smita lķka..Og ekki geta lęknar kallaš žaš barnaveiki žó žś sért aš kafna vegna barkabólgu-žvķ žaš er jś bśiš aš bólusetja okkur öll sem eru oršin um 60 įra..og alla fędda eftir žaš)
Fljótlega fóru ašrir lęknar aš taka eftir slįandi lķkum einkennum milli višbragša viš fęšu og blóšsjśkdómsins sem tengdist bóluefnum. Nįkvęmlega sömu klķnķsku einkennin.
PENSILLĶN
PENICILLIN
Nęst var žaš pensillķn, sem varš mjög vinsęlt į įrunum į milli 1940 og 1950. Žaš uppgötvašist fljótt aš aukaefni sem köllušust "hjįlparefni" vęru naušsynleg til aš lengja virkni sżklalyfsins žegar žvķ var sprautaš ķ lķkamann.  Hjįlparefnin myndu virka sem buršarsameindir. Įn hjįlparefna myndi sżklalyfiš einungis virka ķ um 2 klukkutķma. Hreinsašar olķur virkušu best, unnu sem tķmalosunar hylki fyrir sżklalyfin.
Jaršhnetuolķa varš fyrir valinu, vegna žess aš hśn virkaši vel, var ódżr og aušvelt aš nįlgast hana. Ofnęmi fyrir pensillķni varš algengt, og var undireins žekkt sem viškvęmni fyrir žessari olķu sem  var notuš sem buršarefni.  Žaš er žessvegna sem enn ķ dag aš  žś ert spuršur aš žvķ hvort žś hafir ofnęmi fyrir pensillķni. Ofnęmiš er viškvęmni fyrir buršarefninu. (peanut oil/jaršhnetuoķu)
Įriš 1953 voru 12% žjóšarinnar komin meš ofnęmi fyrir pensillķni.[1]
http://barbfeick.com/vaccinations/
Žaš er fyrir WWII sem fyrst er skżrt frį jaršhnetu ofnęmi ķ mörgum rannsóknum hjį fulloršnum og börnum sem höfšu veriš sprautuš meš nżja "undra lyfinu" penisillķn.. Į žessum tķma voru vandręši ķ sambandi viš penisillķn,  žar  sem virknin varši einungis ķ  nokkra klukkutķma.
Til aš lengja virkni lyfsins, blandaši herlęknirinn Dr. Monroe Romansky žaš meš žvķ sem fįanlegt  var  į strķšstķma –hnetuolķu og bżflugnavaxi.
Žetta var einföld lausn-lķkaminn myndi brjóta nišur olķuna og losa hęgt śt ķ blóšstrauminn.
Žvķ mišur olli lausn Romansky"s žvķ aš tugir  barna og fulloršinna varš viškvęmt fyrir hnetum. .[8]
Til aš draga śr žessum aukaverkunum var hnetuolķan hreinsuš til aš fjarlęgja eins mikiš af próteininu og mögulegt var. Samkvęmt FDA inniheldur samt sem įšur "best hreinsašaša" hnetuolķan snefil af hreinu próteini 0,014 til 16,7 μg prótein / ml olķu. [9]
Óhįš hlutfallslegui öryggi ķ penicillķni, var hnetuolķa samžykkt ķ almenna notkun innan lyfjaišnašarins.
UPPGANGUR BÓLUEFNA
Stóra breytingin kom meš bóluefnunum.
Hnetu olķa var kynnt sem hjįparefni ķ bóluefnum upp śr 1960. Žaš birtist grein ķ NY Times 18.Sept.1964 sem hefši aldrei fengist  prentuš ķ dag.
Höfundurinn lżsti žvķ hvernig nżtt einkaleyfis innihaldsefni sem innihélt hnetuolķu, vęri bętt viš sem hjįlparefni ķ nżtt flensu bóluefni, ķ žvķ skyni aš lengja "ónęmi."
JARŠ

HNETUOLĶA NOTUŠ Ķ NŻJU BÓLUEFNI
PEA

NUT OIL USED IN A NEW VACCINE
http://www.nytimes.com/1964/09/19/peanut-oil-used-in-a-new-vaccine.html?_r=0
Jaršhnetuolķu aukaefni til aš bęta virkni flensu bólusetningar.
NEW YORK Merck & Co. has altered its influenza vaccine in an attempt to extend the life of flu shots by two to three years.
The key new ingredient: Peanut oil./Jaršhnetuolķa
Are Peanut Oil Proteins Still In Vaccines?
(ERU HNETU OLĶU PROTEIN ENNŽĮ Ķ BÓLUEFNUM?)
http://blog.naturalhealthyconcepts.com/2015/03/17/the-origin-of-food-allergies-natural-ways-to-prevent-them/

In 1964, an article published in the New York Times reported that Merck, a major pharmaceutical manufacturer, patented a peanut oil vaccine adjuvant that would extend immunity.
Merck's Peanut Oil Adjuvant /

Merck"s

Jaršhnetuolķu hjįlparefni



http://www.thevaccinereaction.org/2015/11/mercks-peanut-oil-adjuvant/
On September 19, 1964, an article titled "Peanut Oil Used In A New Vaccine" appeared in The New York Times.1 It was written by Stacey V. Jones.  The piece noted that an influenza vaccine, which had just recently been patented by Merck & Co., Inc., carried a key ingredient known as Adjuvant 65, which contained peanut oil. The adjuvant, aimed at slowly releasing antigens to "stimulate the creation of antibodies," was described as "an emulsion of refined peanut oil in water to which are added an emulsifier and a stabilizer."1 
UPPRUNI FĘŠU OFNĘMIS & NĮTTŚRULEGAR AŠFERŠIR TIL AŠ KOMA Ķ VEG FYRIR ŽAŠ
The Origin Of Food Allergies & Natural Ways To Prevent Them
http://blog.naturalhealthyconcepts.com/2015/03/17/the-origin-of-food-allergies-natural-ways-to-prevent-them/
Here are some of the excipients used in vaccines and the reasons for their use as defined by the CDC.
HÉR ERU UPPLŻSINGAR UM NOKKUR AF ŽEIM EFNUM SEM ERU Ķ BÓLUEFNUM OG ŽETTA ER LISTI FRĮ CDC -ŽEIM SEM SEGJA MANNI AŠ NŚ SÉ KOMINN ŽESSI EŠA HINN FARALDURINN.
Ef viš skošum öll vandamįlin ķ sambandi viš bóluefni sķšusta įratug [2] 
žį er yfirboršskennd vitneskja nóg til aš žaš vakni grunsemdir um aš bóluefni spili einhvern žįtt ķ žessu ofnęmi į mešal barna.
En višbrögšin viš (jarš)hnetum er ekki bara eitthvaš ofnęmi.
http://www.offthegridnews.com/alternative-health/the-shocking-link-between-peanut-allergies-and-vaccines/
 Hnetu ofnęmi hefur skyndilega komiš fram sem numer 1 sem dauši af völdum matvęla, er ķ žeim flokki ofnęmisvaka  sem geta orsakaš brįšaofnęmi. Žetta įstand  eykur lķkur į astma kasti, losti, öndunarfęra bilun, og jafnvel dauša. Sérstaklega į mešal barna.
 Heimildir birtar ķ Heather Fraser's 2011 book The Peanut Allergy Epidemic/Hnetu Ofnęmis Faraldurinn benda į aš bóluefnin tengist žessu óvéfengjanlega. 
Viš höfum komist aš žvķ aš viss flokkkur hjįlparefna ķ bóluefnum , er mjög lķklega orsakavaldurinn ķ žvķ sem mętti kalla faraldur. [1]
En förum ašeins til baka. Viš veršum aš skoša nżlišna sögu bóluefna og sżklalyfja, og žęr lķffręšilegu breytingar sem innihaldsefni ķ žessum glęnżju lyfjum geta haft į blóšiš hjį börnum.
ŽŻŠANDI AGNŻ
P.S..Tók eftir aš eg hafši ekki žżtt smį,  svo ég set žaš hér óžżtt..Žżši sķšar..
 HNETU HJĮLPAREFNINU HALDIŠ LEYNDU
KEEPING PEANUT ADJUVANTS A SECRET
The first study of peanut allergies was not undertaken until 1973. It was a study of peanut excipients in vaccines. Soon afterwards, and as a result of the attention from that study, manufacturers were no longer required to disclose all the ingredients in vaccines.
What is listed in the Physicians Desk Reference in each vaccine section is not the full formula. Same with the inserts.
Suddenly after 1973, that detailed information was proprietary: the manufacturers knew it must be protected. Intellectual property. So now they only were required to describe the formula in general.
Why was peanut allergy so violent?
Adjuvant pioneer Maurice Hilleman claimed peanut oil adjuvants had all protein removed by refining. [9]
The FDA disagreed. They said some peanut protein traces would always persist [10]- that even the most refined peanut oils still contained some traces of intact peanut proteins.
This was the reason doctors were directed to inject vaccines intramuscular rather than intravenous – a greater chance of absorption of intact proteins, less chance of reaction.
But all their secret research obviously wasn't enough to prevent sensitivity.
Mother Nature know best: no intact proteins in the body. 60 million years of Natural Selection didn't create the mammalian immune system for nothing. Put intact proteins, peanut or whatever, for any imagined reason into the human system and the inflammatory response will fire. And since the goal of oil emulsion adjuvants was to prolong reactivity in the first place – the notion of time-release – this led to sensitization.
HNETU -OFNĘMIS FARALDURINN
PEANUT ALLERGY EPIDEMIC
Although peanut allergies became fairly common during the 1980s, it wasn't until the early 1990s when there was a sudden surge of children reacting to peanuts – the true epidemic appeared.
HVAŠ BREYTTIST?
What changed? 
The Mandated Schedule of vaccines for children doubled from the 80s to the 90s:
1980 – 20 vaccines
1995 – 40 vaccines
2011 – 68 vaccines
It would be imprudent enough to feed peanuts to a newborn, since the digestive system is largely unformed.
EN ŽETTA ER ENN VERRA.
But this is much worse – injecting intact proteins directly into the infant's body. In 36 vaccines before the age of 18 months.
A new kind of anaphylaxis appeared with peanut reactions:
reverse anaphylaxis. (p 172, [1])
The reaction was not only to the sensitizing antigen, but to the weird new antibodies that had just been introduced in the human species by the new antigen. Without the usual benefit of the evolutionary process.
As vaccines doubled between the 1980s and the 1990s, hundreds of thousands of kids were now exhibiting peanut sensitivities, with frequent cases of anaphylaxis reactions, sometimes fatal.
EN ENGINN TALAŠI UM ŽAŠ..
But nobody talked about it.
Following the next enormous increase in vaccines on the Mandated Schedule after 9/11, whereby the total shot up to 68 recommended vaccines, the peanut allergy soon reached epidemic proportions: a million children: 1.5% of them.
These numbers fit the true definition of epidemic even though that word has never been used in mainstream literature with respect to peanut allergy, except in Fraser's odd little book.
Many researchers, not just Heather Fraser, could see very clearly that
"The peanut allergy epidemic in children was precipitated by childhood injections." ( [1], p 106)
Ending the peanut allergy epidemic by Heather Fraser

http://www.foodsmatter.com/allergy_intolerance/peanut_treenut/articles/ending-peanut-epidemic-09-15.html
But with the newfound research, the medical profession will do what they always must do – bury it. Protect the companies.
So no money will be ever allocated from NIH to study the obvious connection between vaccine excipients and peanut allergy.
That cannot happen, primarily because it would require a control group – an unvaccinated population.  And that is the Unspoken Forbidden.
Same line of reasoning that has prevented Wakefield's work from ever being replicated in a mainstream US clinical study. No unvaccinated populations. Which actually means no studies whose outcome could possibly implicate vaccines as a source of disease or immunosuppression.
BÓLUEFNI SEM ORSAKAVALDUR OFNĘMIS FARALDRA?

Vaccines as a cause of an allergy epidemic?
Impossible. Let's definitely not study it.
Instead let's spend the next 20 years looking for the Genetic Link to the childhood peanut allergy epidemic…
In such a flawed system, any pretense of true clinical science is revealed as fatally handicapped of course: we are looking for the truth, wherever our studies shall take us, except for this, and this, and oh yes, this.
Evidence for the connection between peanut excipients and vaccines is largely indirect today, because of the circling of the wagons by the manufacturers. It is very difficult to find peanut excipients listed in the inserts and PDR listings of vaccines. Simple liability.
FRAME OF REFERENCE
So in addition to all the other problems with vaccines delineated in our text, now we have a new one – peanut oil excipients. Which all by themselves can cause severe, even fatal, episodes of shock, as well as chronic allergy – irrespective of the mercury, aluminum, formaldehyde, ethylene glycol, and the attenuated pathogens which the manufacturers do admit to.
Quite a toxic burden to saddle the unprotected newborn with. No wonder the US Supreme Court refers to vaccines as "unavoidably unsafe."
Childhood allergies doubled between 1980 and 2000, and have doubled again since that time. [11] Theories abound. Childhood vaccines doubled at the same time. Why is there a virtual blackout of viable discussion about this glaring fact?
The epidemic of peanut allergy is just one facet of this much broader social phenomenon. We have the sickest, most allergic kids of any country, industrialized or not, on Earth.
A study of the standard literature of vaccines is identical to a study of the history of adjuvants – an exercise in cover-up and dissimulation. Unvaccinated children don't become autistic.
And they don't go into shock from eating peanuts. But there can never be a formal clinical study where the control group is unvaccinated. NIH would never do that. They cannot. They know the outcome.
HVAŠ ER AŠ VALDA HNETU OFNĘMI?
What Is Causing The Peanut Allergies?
http://www.vaccinationinformationnetwork.com/what-is-causing-the-peanut-allergies/
So if they know the peanut oil often causes violent reactions, and causes lifelong peanut allergies in millions upon millions of people, why are they using it instead of a safer adjuvant? Now, let's get it straight that all adjuvants can cause problems, because it's not just peanuts that the western world have skyrocketing allergic reactions to, but yes, there are safer adjuvants, so why not use the best one?
The simple answer is money. Vaccinations are a multi-billion dollar industry, and so is it's spin-off, the allergy treatment industry. In fact, in the next few years, it is projected to pass the $50 billion dollar per year mark.
Now imagine this … you own a big company selling vaccines and you discover a substance which you can add to your vaccines to cause a lifelong allergy to in your customers. This gives you an opportunity to sell them protection products for their allergy, including anti-histamines, epinephrine injectors, and peanut patches for the REST OF THEIR LIVES.
HEIMILDIR
References
Fraser, H, The Peanut allergy epidemic, Skyhorse 2011
O'Shea, T, Vaccination is not immunization, thedoctorwithin 2013
Wallace, AR, Vaccine delusion, 1898
Richet, C, Nobel lecture, acceptance speech, 11 Dec 1913
Nobel Lectures Physiology or Medicine 1901-1921, Elsevier Publishing Company, Amsterdam, 1967
www.nobelprize.org/nobel_prizes/medicine/laureates/1913/richet-lecture.html
Von Pirquet, C, MD, On the theory of infectious disease
Journal of the Royal Society of Medicine Volume 80, January 1987
O'Shea, T, Allergies: the threshold of reactivity
www.thedoctorwithin.com/allergies/Allergies-The-Threshold-of-Reactivity/
O'Shea, T, The post antibiotic age
www.thedoctorwithin.com/antibiotics/Post-Antibiotic-Age/
Jones, S, Peanut oil used in a new vaccine New York Times 18 Sep 13
HOBSON, D, MD, The potential role of immunological adjuvants
in influenza vaccines Postgraduate Medical Journal March 1973 , no. 49, p 180.
http://pmj.bmj.com/content/49/569/180.full.pdf
Technical Report # 595, Immunological Adjuvants, World Health Org. 1976.
http://whqlibdoc.who.int/trs/WHO_TRS_595.pdf
FDA: March 2006. Approaches to Establish Thresholds for Major Food Allergens
www.fda.gov/downloads/food/labelingnutrition/foodallergenslabeling/guidancecomplianceregulatoryinformation/ucm192048.pdf
O'Shea, T, The threshold of reactivity
www.thedoctorwithin.com/allergies/Allergies-The-Threshold-of-Reactivity/

There are precedents recent and historical (see  The Words Allergy and Anaphylaxis were Invented to Describe Vaccine-Injuries) for the causal link between vaccines and mass allergy.
http://www.smartvax.com/index.php?option=com_content&view=article&id=73%3Avaccine-induced-allergies

Peanut Oil Used in Vaccines Since the 1960s

 http://www.drpalevsky.com/articles_pages/346_Peanut_Oil_in_Vaccines_Since%20the_1960s.asp

The Hidden Food Allergy That Causes Infertility

http://barbfeick.com/vaccinations/allergy/960-infertility.html

How A Gluten Allergy Can Effect Your Fertility

http://www.gettingpregnantnow.org/Articles/Celiac Disease And Infertility.html

Gluten Allergy And Recurring Miscarriage .


http://www.gettingpregnantnow.org/Articles/Gluten_Allergy_and_Getting_Pregnant.html

One in Six or one in Seven couples

http://www.telegraph.co.uk/health/healthnews/5159380/Fertility-treatment-doubles-in-15-years.html

Infertility affects about 6.1 million people in the U.S., equivalent to ten percent of the reproductive age population.

http://www.psychologistanywhereanytime.com/adoption_psychologist_and_psychologists/psychologist_infertility.htm




NewsTarget:"The greatest lie ever told is that vaccines are safe and effective,"

 
Meginflokkur: Fjölmišlar | Aukaflokkar: Heilbrigšismįl, Vķsindi og fręši, Bloggar | Breytt 3.12.2019 kl. 03:13 | Facebook
« Sķšasta fęrsla | Nęsta fęrsla »
Heimsóknir
Flettingar
Ķ dag (27.1.): 8
Sl. sólarhring: 20
Sl. viku: 106
Frį upphafi: 280106
Annaš
Innlit ķ dag: 8
Innlit sl. viku: 90
Gestir ķ dag: 7
IP-tölur ķ dag: 7
Uppfęrt į 3 mķn. fresti.
Skżringar
Um bloggiš
Hitt og þetta...aðallega hitt...
Eldri fęrslur
2019
2018
2017
2016
2015
2014
2013
2012
2011
2010
2009
2008
2007
2006
Tenglar
Uppįhalds sķšur
Margvķsleg mįlefni.
Żmsir vefir.
Talnaspeki / Numerology
Fróšleikur um žessa speki
Fyndiš stuff.
Myndir, brandarar og glens.
Andleg mįlefni
Allt sem tengist žeim mįlum.
Stjörnuspeki / Astrology
Fróšleikur um žessa speki.
Sķšur um ADD / ADHD
Upplżsingar um athyglisbrest / ofvirkni.
SSRI lyf og önnur žunglyndislyf
Żmsar sķšur um hugarfars breytandi lyf.
Asperger syndrome og Autism
Sķšur sem fjalla um Asperger og einhverfu
Blogg śr żmsum įttum..
Vinir / įhugaveršir einstaklingar.
AGLOCO
AGLOCO

Borgaš fyrir aš browsa..
http://skorrdal.com/
MICROCHIP - RFID
UMDEILD MĮLEFNI
WIDE EYE CINEMA

WIDE EYE CINEMA is dedicated to showcasing the very best alternative truth-related documentaries & cinema uploaded onto the World-Wide Web.
MY FAVORITE SITES
HAARP
CHEMTRAILS
TRANSLATE-ŽŻŠA
Translate your website into 52 languages

Just copy and paste the Translate This Button anywhere on your site, it's free and easy. There are no files to upload and it works on almost any website. The Translate This Button is a lightweight JavaScript translation widget. It translates any page quickly using Ajax and the brilliant Google Translate.
VERICHIP-WE THE PEOPLE WILL NOT BE CHIPPED!